Owners Paul & Brenda Pounds 403 Broad St. | Columbia, MS 39429 | 601-731-5222
Step back in time at CORNER OAKS Bed and Breakfast, a restored 1896 Victorian home located in the heart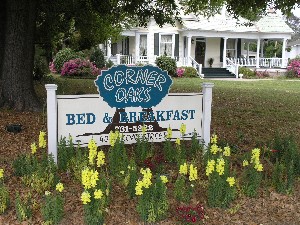 of downtown Columbia, Mississippi. The turn-of-the-century home features beautiful mantels, high ceilings, French doors, crystal chandeliers, hardwood floors and an eclectic mix of antique furniture.

Experience the peace of years past in the four guest rooms, double parlors, wrap-around porch, outside deck, playhouse and tree house. Each guest room has a television, easy chair and lots of reading material. The Upstairs Parlor provides a refrigerator, microwave, coffee pot and a cozy fireplace to enjoy other guests. A full breakfast is provided in the downstairs dining room. All rooms are $80.00 plus tax.

Columbia is located 25 miles west of Hattiesburg, Mississippi; 90 miles South of Jackson, Mississippi; and 100 miles North of New Orleans, Louisiana. Columbia can be reached from Interstate 59 via 98 West; from Highway 49 via 13 South, and Interstate 55 via 98 East.
Contact Us for reservation information:
E-Mail ppounds@bellsouth.net Phone: 601-731-5222
Up Stairs Virtual Tour
Down Stairs Virtual Tour
Dining Room Virtual Tour
Breezy's Blue Room Virtual Tour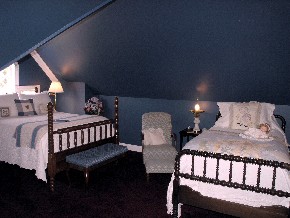 Blue Room - decorated in blue and white, this light and airy guestroom has two Jenny Lind beds and is named for the owners' daughter, Penny. It's as refreshing as the breeze outside and invites you to snuggle up with the feather pillows and watch a movie. A large bath connects the Blue and Yellow rooms.
Helen's Rose Room Virtual Tour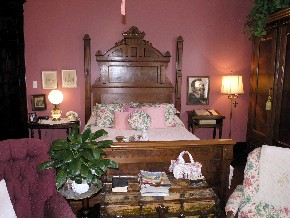 Rose Room - this spacious downstairs bedroom is a tribute to former owners of the house and named for a dear friend, Helen, from whom the house was purchased. Furnished with an antique Eastlake bedroom suite, the room has a private entrance and a private bath with a clawfoot tub/shower.
Pepper and Lynn's Yellow Room Virtual Tour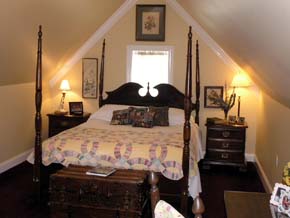 Yellow Room - features a queen-sized Rice bed and sitting area that beckons you to unwind with a good book or watch TV. Family pieces and mementos fill the elongated guestroom named for the owners' son, Pepper and his wife, Lynn. A large bath connects the Yellow and Blue rooms.
P. Pop and B. Mom's Green Room Virtual Tour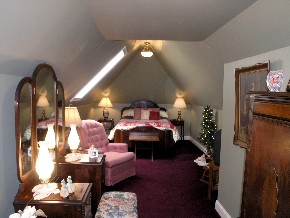 Green Room - the coziest room in the house is tastefully decorated with pictures of the owners' grandchildren, Parker and Peyton. You will enjoy the sleigh bed and skylight that guarantees "sweet dreams." This room has a private bath.

Peyton's Tree House and Parker's Play House - located in the back yard of the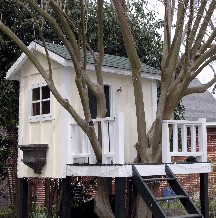 house and available for children. All guests are invited to enjoy the Outside Deck and Wrap-around Porch to experience the peace and serenity of years past.
The Pounds'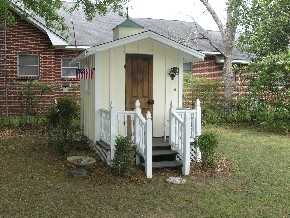 cozy inn is the realization of a dream come true.
While living in New Orleans, Paul and Brenda took "over-flow" guests from two B&Bs on St. Charles. This planted a seed that grew into a desire for a B&B of their own. Brenda, who had traveled extensively with her football coach husband fondly recalled the sense of community pride her hometown offered, so when the two retired, they moved there and opened Corner Oaks in an 1896 Victorian. Maintaining the home's original character, the couple renovated every room to make it suitable for modern living. The Inn opened in 2000 and maintains a steady flow of guests.
Owners Paul & Brenda Pounds |403 Broad St. | Columbia, MS 39429 | 601-731-5222 Powered by New Orison360